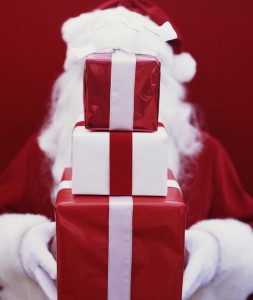 After several excruciating hours navigating the mass mileage of the Mall of America, I lug my Christmas bags home, plop down in a chair, and realize with sadness: I don't know how to do it right anymore. Christmas shopping, that is. I have an indescribable urge to wail for my mother.
Not that the shopping was that good in the small Missouri town where I grew up. In fact, if an alien spaceship took me up into the skies, transporting my molecules (in a friendly manner) from here in Minnesota to there, I probably would find myself on foreign ground. I understand most of the people in my hometown don't shop there anymore; they do not search the quiet stores downtown in the twilight. They drive to Walmart out by the interstate or trek thirty miles down the road to one of the bigger burgs on the Mississippi River, a place powdered with shopping malls and discount houses. From the portals of a spaceship, I bet it looks just like every other town in America.
When I was young and without wheels, a driver's license, or a credit card, I knew how to shop. I would choose a December afternoon, inform my mother I was walking downtown after school, and stuff in my pocket $1.69 for each member of my family. The amount never left my head as I circled the courthouse square, studying the windows of the hardware store, the jeweler, the dime store, the drug store, and the department store. Would my mother like that beautiful little bejeweled box? Does my father need a new screwdriver? And of lesser concern: what would bring my little sisters happiness?
Those afternoons of Yuletide bliss were moments of glorious freedom and joy, the kind that wells up in your heart and sends it tripping with happiness. Although I am sure the town square was busier than usual due to the season, I do not recall crowds, being shoved or pushed. I do not remember lines at the cash register or drivers snarling over parking spaces.
I had time to mull, to ponder, to weigh each of my purchases. I wasn't obsessed with "the getting," more than "the thing that was got." Every gift was given quite serious, but not necessarily lengthy, thought. And I knew it was right when it bypassed my head and rammed straight into my heart. I knew, then, it would be just the right gift to be found under the tree on Christmas morning. For perfect presents have that quality of rightness, that specialness; they seem to conjure up Christmas morning feelings long after the day is done and the tree has been taken down.
Perhaps that is why it has been so long since I have enjoyed Christmas shopping. I have missed that feeling of rightness. My shopping list seems filled with brand names learned on Saturday morning television or Pinterest boards. I no longer shop on pure impulse, fueled by happiness and expectation. I have lost that lightness of step; now I am weighed down with the wants and desires of others (not that I have such a needy bunch but I do want to give them something they will like). Christmas shopping has become not something I want to do, but something I must get done.
When I was young and without worries, schedules, and parking problems, I knew how to shop. I would wander in and out of the  stores while the day darkened and the evening began to glisten with Christmas decorations and automobile lights. Some Christmases I would step out of a store just as it began to snow on shoppers and people going home. I would meet my mother at the corner of the dime store; she would pull up in the car and I would bundle in with bags and packages. And I always was amazed that she was never curious about the packages, never wanted to know which one of them was for her.
I used to think, riding home, that she didn't want to spoil the surprise, and that may have been some of it. But, I think now, it was more likely that she had her mind on other things—shopping lists and parking spaces and schedules.
___________________________
How is your shopping experience going this year? Leave a comment and share it with us.
For a short story in the tradition of National Lampoon's Christmas Vacation, check out "Christmas Unplugged." And have a happy and well-lit holiday.