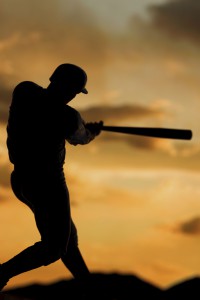 It's Sunday in August, and the stands at Target Field are rocking with babies. Babies of all sizes and all decibels. I find it hard to believe that any of these little ones care if the Minnesota Twins pull themselves out of the bowels of the American League Central Division. But their parents care. So they drag them with all their paraphernalia (have you seen the size of strollers these days?) to the game.
I don't want to sound like a curmudgeon. I was once a new parent too and dragged my newborn to sporting events. In my case, it was a professional tennis tournament in Stowe, VT, where I wanted to see Jimmy Connors. Did I enjoy the match? I spent the entire two hours holding my breath, praying the baby would keep sleeping, and the ushers wouldn't approach me with that "you can leave now" look. And she was quiet, most of the time. During one of the tiniest mews, the volatile Connors looked up in the stands in our direction . . . and gave a smile. I like to think he was smiling at us. After all, he himself was a new dad and seemed a little calmer on the court that day.
Maybe we take babies to baseball games because we want them to soak in all the history and atmosphere of America's great pastime. This taste surely will make them baseball fans for life.
Maybe we want to see our wee ones on the Kid Cam, their uber adorableness displayed in XXXXL size on the Jumbotron.
Maybe it's because they look so dang cute in those Minnesota Twins Onesies, holding their Minnesota Twins Sippy Cup, and wearing their "Littlest Fan" bib, which is a replica of a baseball wrapped around their neck.
Maybe we couldn't find a babysitter, and there was no way we were going to pass up a chance to use those tickets our boss gave us.
Or maybe we just want to sit in the sun on a pleasant Minnesota summer afternoon, holding our kid, listening to the vendors shout "Hotdogs!" or "Cold beer here!" and wishing with all out heart that catcher Joe Mauer or first baseman Justin Morneau would rip one to the moon. That would be something to see. You could remind your kid—when he is about ten—that he was there for that fine moment. Because you will have to remind him. He won't remember that day at the park.
I was at a game once where a father caught a foul ball in one hand while cuddling his newborn in the other. The crowd thought it was great. People applauded, like when Michael Jackson held his new baby out over a balcony to soak up the adulation of his fans. Personally, I don't want any hard-hit line drive within a mile of my baby's head.
It's okay to drag irritable children to long sporting events, just be honest about why you are doing it. It's for you. And those tiny jerseys are baby-licious.
_______________________________________
In love with batting cages? Try "How I Got My Groove Back."
In love with baseball-crazy characters? Read about Sheriff Odie Dorfmann in Maud's House.